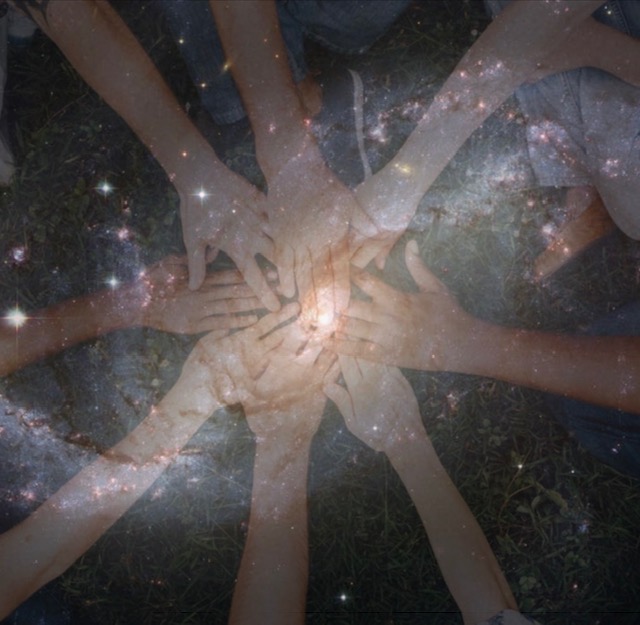 I'm so excited you are interested in this New Moon circle! Here is a little information on what to expect so you can begin to feel the energy we will be working with during our time in circle.
"The fundamentals of spirituality connect us rather than separate us. Women meeting in circles with a spiritual center are in a sacred space, are practicing and developing compassion when they listen, and are deepening themselves. The more circles there are, the easier others can form. At the same time, each circle adds to collective human consciousness."
Jean Shinoda Bolen, The Antidote
What is a Women's Circle?
(From Sacred Earth Journeys)
Throughout history, women have gathered in sacred circle. Be it around a fire in prehistoric times, within hushed monasteries of the Middle Ages, in consciousness-raising groups in 1970's living rooms or online groups in the digital age, women have long congregated to laugh, share, heal, care for children, grieve, and spiritually connect in community.
Women's circles operate on unique principles and values. Within the structure of the circle, there is no hierarchy; each woman's voice is equally important, her story honoured and received fully. In this sacred space, a collective power is harnessed. And when there is focused intent on healing – individually and collectively – magic happens. The support, creativity, and sharing of ideas that is fostered in women's circles has the power to translate into something much larger and more palpable. There is a ripple effect that positively impacts society at large.
Why do we circle under the New Moon?
The New Moon is a time when the Moon is not visible to our eyes. She is behind the curtain, retreating into herself in order to begin the cyclic nature of her being all over again.
Just as the all feminine Moon retreats into herself, so do we. We use this time to go inward, to get in touch with our hearts and set intentions for the next cycle.
Wild Woman Circles will have a theme each month, as the Moon moves into a new astrological sign. Our circle will be guided by this theme, and the visualization and meditation you'll receive will help guide your own intention setting.
What's the point of intention setting?
The juiciest (and my favorite) part of these circles is diving deep into our hearts and out of our heads. Into compassion and out of judgement (of ourselves and others). By connecting to our hearts, our true needs/wants/desires are made known and we can begin to honor our inner divine feminine.
Through this connection, we will set intentions that help keep us mindful of who we are (truly) without the demands of society placed upon us. We get to honor ourselves, make a plan to continue doing so, and support our sisters on their journey as well.
Who can come to these circles?
Women, and anyone who identifies as a woman
What made me decide to train for and facilitate these circles?
I want to empower our sisters. To create a circle of support that allows women to be seen and heard for who they are without the demands of society.
I want to provide a safe, love filled space in which to be around other like minded women.
I wanted to expand my heart out to a community who has so readily welcomed me.
I want to help women remember themselves, to drop into their heart space and get in touch with their intuition.
What happens during a circle?
This is the best part! These circles are full of love, support, and sisterhood. Circles are ceremonial ritual and there are several parts.
What to expect:
Entry/Greeting: sign in, make a cup of tea, introduce yourself
Choosing an Oracle Card: With the intention that the message or card will serve as a reminder or guide for this experience and moon cycle.
Lighting of the candle: As we light the flame for our circle, we will be reminded that we also light the flame for the collective
Centering: Moving from our heads into our hearts, out of judgement and into compassion
Verbalizing the commitment of Sacred Space: what is shared in circle stays in circle
Introduction to the theme of the month: Wild Woman Project provides guidance for our experience here
Visualization/Meditation: Be open to being led through an experience that will allow you to tap in to your inner guidance and help set your intention for the month
Sharing: We will share our experience of the visualization. This will be structured, we will share to the group, while our sisters see and hear us. We will honor each other and keep our shares in confidence.
Intention setting ritual: We will use the guidance received in the visualization to set an intention for the cycle. We may write or create.
Heart Light Visualization/Closing of ceremony.
What to bring:
Please bring a journal, pen, water/tea mug, and something to sit upon.
Some blankets will be available, but please ensure that you are comfy for our circle. You may wish to bring a shawl or wrap to cozy up
Please come with an open heart for sharing, visualization, and ceremonial ritual.
Gathering fee: $15 (Sliding scale fee available. Please email sarah@sacredrosemedicinals.com for information)
For more information, visit www.thewildwomanproject.com